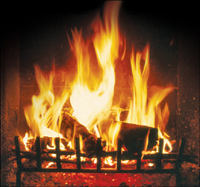 The first fire of the season is crackling and popping away in our woodstove tonight and it's getting me to think of that most-wonderful-time-of-the-year!
Here are a few tips for planning ahead to make your holiday season a little less stressful! Maybe I will actually get my little rear in gear this year and get ahead of the game myself!
Start planning now for Christmas crafts you can do with your kids. Pinterest is a wonderful source for inspiration! This is something I feel like I never think about until it's too late, and I'm always bummed when the holidays have already flown by and we didn't get around to doing anything crafty, just because I didn't plan ahead!
Keep a special recipe notebook or folder just for holiday recipes – your favorite Thanksgiving dishes, those special Christmas cookies that must be made every year…
This one is an obvious, but start buying your Christmas gifts NOW. As obvious as this seems to me, I almost never take my own advice and I'm always scrambling during the week before December 25th and kicking myself for being so dumb. This year will be different…right?
Make a list of who you want to buy gifts for and jot down any ideas you have for them. Keep the list in your purse and keep your eye out for special sales and deals, and keep searching the internet. If you start now, you are much more likely to find the perfect gift at a much better price than if you buy it last minute.
Start planning your Christmas cards now! If you include a picture, (which you should, in my opinion ;-)) start planning outfits for the family and either schedule a sitting with a photographer or ask a friend or family member to help take a more informal shot and get a date planned with them sometime in early to mid-November so that you have plenty of time to order your cards. Online is easiest and best, so check out Storkie Christmas cards. They have countless beautiful and unique designs to choose from!
Get ahead of the game and have them all addressed before Thanksgiving so that they are ready to drop in the mail as soon as you please once the Christmas season has "officially" begun!
Keep a document or spreadsheet on your computer with the names and addresses of everyone that you want to send your cards to every year. If you use Google Docs, you can easily access it from any computer and it will still be there if your computer crashes.
 If you've never done it, (or even if you have!) try to find a Christmas tree farm near you (this is obviously easier if you live in the Pacific NW like I do,) and cut down your own tree instead of buying it out of a parking lot. This was always a favorite tradition growing up, (even with the arguing and bickering that came with 8 people giving their own opinions on which tree we should get, LOL,) and I love doing it with my own little family now!
Look up a performance of the Messiah to attend during the holiday season. Though my musical-genius brother will tell you that it was actually written as an Easter celebration, it is mostly performed around Christmas time. Even if you don't live in a big city where the hoity-toity top-notch choirs perform, (expensive!) you should be able to find a cheap or even free community or church performance. Some communities even host a sing-a-long Messiah where you can join in. It is on my bucket list to attend one of these, and if I never make it, I will get to sing the Hallelujah chorus in heaven where my voice will be as beautiful as I wish it was now.
Research and decide on a charitable opportunity to participate in during the Christmas season. Volunteer somewhere or get gifts for needy children or lonely elderly people who don't have family to spend the holidays with.
Plan a New Year's party Come up with some fun games…we had a blast with our own version of the Newlyweds' Game. We came up with questions that would be funny or interesting for all the couples there.  Start here for inspiration! We had quite the variety – some couples who'd been married for 25+ years all the way down to 7 months, plus a courting couple! (We were amazed when the courting couple totally skunked the rest of us! They are now happily engaged and about to be married in less than 6 weeks!)
If you are rednecks country-folk like us, stock up on ammunition for the New Year celebration!
These
paper lanterns
would make cute Thanksgiving, Christmas or New Year's decorations,
just use the right color paper to fit with the holiday!
Wow! Now I'm excited and inspired! If summer is gonna leave us so quickly, I guess I may as well embrace what's coming next!
Hot chocolate, maybe some snow, (please?)…CHRISTMAS!
I wrote this blog post while participating in the Storkie holiday blogging program. I received compensation for my participation. All opinions are 100% mine