Anyone who knows me very well, knows by now that housecleaning is, well…not exactly my strong point.
My housecleaning methods to date have been to Ignore/avoid it as long as possible until the house so horrible that I (and/or my husband,) can't stand it anymore, at which point I go into a cleaning frenzy, trying to get everything so clean and tidy that we could have the Queen over for tea the next day and I could feel proud.
I usually diligently attack everything up to item #18 on my list of the 469 cleaning tasks that I tell myself, if accomplished, would mean my home was actually, truly clean.
Somewhere between scrubbing the shower walls and cleaning the deep corners of my kitchen cupboards with a q-tip, I hit The Burn Out.
I give up and let everything slide again until I get so fed up with all the mess that I make The Resolve to Never Let My House Get This Way Again and then repeat the whole silly cycle again.
I now realize that to really conquer this Housework Beast, I need to gradually form healthy cleaning habits and over time ease myself into a routine that keeps my home in order, instead of simply avoiding it 90% of the time and launching into sudden and exhausting cleaning frenzies.
I am excited to start working through Sarah Mae's book, 31 Days to Clean. I started working on it back in May, and then Summer and life happened and I fell off the routine about half way through.
I am now resolved to begin anew, and even if it takes me 62 days (or more!) to get through this amazing book to a cleaner and tidier me, I WILL DO IT.
For accountability and encouragement, I will be joining up with the Homemaker's Challenge, starting today, Sept 1st. Join me and nearly 100 other women striving to better glorify God through the better keeping of their homes!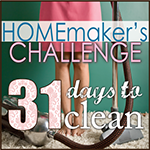 I will be regularly blogging about my progress here every Thursday. Even if I can only get through one "day" each week, I am determined to keep plugging away until I have reformed my cleaning habits.
If you struggle with housecleaning, I highly recommend this book! I would love to have you working through it along with me!
You can purchase the ebook for your Kindle or Nook or in PDF format to download on your computer for $4.99, or you can win it here on Mama Chocolate!
Sarah Mae is graciously giving tw

o

of my readers their very own copy of 31 Days to Clean!
I will have this giveaway only run through Wednesday, Sept 7th, so the winners can still get in on the Homemakers Challenge it they want to!