"How did/would/will you handle bringing a new baby home with a toddler in the house?"
I am grateful to say that Katie, at 19 months old, did wonderfully when Victoria joined our family.
I have always been of the opinion that telling your child how you're still going to love them just as much when the new baby comes can actually give them the idea that you might not.
We assumed Katie was going to love the new baby and acted accordingly…she never thought to think anything different.
We continually reinforced to her that a new baby is a good thing.
Showing your toddler that you still love them is obviously crucial.
We made sure Katie got plenty of attention when Victoria came around, (especially since she happened to be very sick at the time and needed plenty of cuddling, poor girl.)
In preparation for Victoria's arrival, we told her with excitement how there was a baby in Mama's tummy, (she was very interested in this idea,) and how it was going to be so fun to have a tiny little baby to cuddle and kiss!
She liked to put her dolls under her shirt and have a "baby in my tummy!" too.
When
Victoria was born
, Katie was almost immediately in the room per our request, thanks to some auntie.
She was very excited about the baby, (and didn't want to leave Mama & Baby!)
When Papa came in to give Victoria kisses, Katie basically indicated he needed to back off from her baby!
At that point we were pretty sure everything was going to be okay!
Over the next week or so, she went through an "acting out" stage, but I think it was more in part to her not feeling well, and testing to see how much she could get away with while Nana was here.
She never once acted jealous or resentful of Victoria and was very gentle and sweet around her.
And now they're becoming little buddies…
Of course, there are moments…especially as Victoria has recently started crawling, which means she can "steal" Katie's toys, already causing all sorts of drama.
I always loved having sisters, and I'm so glad that God blessed each of my girls with a sister.
I pray that they continue to get along and grow in love for each other as they become adults!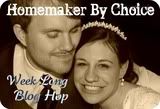 …and at Toddler Talk Thursday: