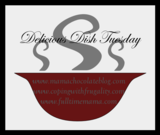 Welcome to another Delicious Dish Tuesday, a blog hop for and about delicious food!
Join us each week as we share our favorite recipes and give you the chance to share yours!
Last week, I took a break from Delicious Dish Tuesday while I enjoyed my brand-new baby girl and recovered from the process of getting her here!
This week, I am sharing my tutorial for the best method for hard-boiling eggs that I have yet found! This method is consistently giving me super easy-to-peel eggs, even when they are insanely fresh (like 12 hours from the hen!)
Need to know what to do with all those cleanly-peeled eggs? I recently found this list of 30 hard-boiled egg recipes and meal ideas at Parenting Squad!
Now it's your turn!
Please link a post that is Delicious! If you are new, read the original post which includes the rules for linking up. As always, if you have any questions please email me at info@mamachocolateblog.com.
Please include a link back to one/any of the host sites (through worded link or badge).
The Delicious Dish Tuesday hosts include:
Amanda of Coping with Frugality
Alesha of Full Time Mama
and me, Johanna of Mama Chocolate
Don't forget to leave a comment after you link up your post!