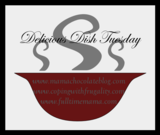 Welcome to another Delicious Dish Tuesday, a blog hop for and about delicious food!
Join us each week as we share our favorite recipes and give you the chance to share yours!
One of my favorites from your link-ups last week was the Ginger Chicken from A Girl Worth Saving. I love ginger and am always looking for new and easy ways to cook up (cheap!) chicken! I am putting this on the menu plan for the month and guessing it'll become a regular dish around here…it looks amazing!
This week, in honor of Independence Day coming up, we're going with a bit of a theme here with our shared recipes! I haven't made this yet, so I'm just going to show you the picture I pinned recently. I'm hoping to make this for our annual family reunion/barbecue get-together tomorrow! This is such a clever (and healthy) snack, and the way I've been munching down the fruit lately, this will be absolutely perfect!
Source: PartyCity Patriotic Food Ideas
We'd love it if you have 4th of July-themed recipes to link-up those this week!
(Keep the rest of your awesome creations comin' at us too!)
Please link a post that is Delicious! If you are new, read the original post which includes the rules for linking up. As always, if you have any questions please email me at info@mamachocolateblog.com.
Please include a link back to one/any of the host sites (through worded link or badge).
The Delicious Dish Tuesday hosts include:
Amanda of Coping with Frugality
Alesha of Full Time Mama
and me, Johanna of Mama Chocolate
Don't forget to leave a comment after you link up your post!