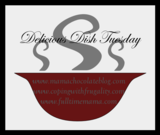 Welcome to another Delicious Dish Tuesday, a blog hop for and about delicious food!
Join us each week as we share our favorite recipes and give you the chance to share yours!
From last week's link-ups, I am featuring this super-easy Beef Goulash recipe from Random Mommy! This looks like it would be a great comfort-food dish on a busy day
There's only about one more week for my Whole Wheat Pancakes recipe at the GrainMill Wagon blog to win their October contest!
Please go check it out and share it with your friends! The author with most-viewed post during October wins some awesome prizes, including a WonderMill electric grain grinder.
Since I already have one, I just might have to give it away to one of my awesome readers if I win…so CLICK AWAY! 
Now it's your turn!
Please link a post that is Delicious! If you are new, read the original post which includes the rules for linking up. As always, if you have any questions please email me at info@mamachocolateblog.com.
Please include a link back to one/any of the host sites (through worded link or badge).
The Delicious Dish Tuesday hosts include:
Amanda of Coping with Frugality
Alesha of Full Time Mama
and me, Johanna of Mama Chocolate
Don't forget to leave a comment after you link up your post!