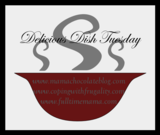 Welcome to another Delicious Dish Tuesday, a blog hop for and about delicious food!
Join us each week as we share our favorite recipes and give you the chance to share yours!
This week, I am featuring this Peppered Prawns with Snow Peas stir fry recipe from Carole's Chatter! It's almost 10pm as I write this, but it looks so good, I would totally get out the frying pan right now if I had the ingredients on hand! Adding the needed items to my shopping list now!
Thanks for linking up, Carole!
Now it's your turn!
Please link a post that is Delicious! If you are new, read the original post which includes the rules for linking up. As always, if you have any questions please email me at info@mamachocolateblog.com.
Please include a link back to one/any of the host sites (through worded link or badge).
The Delicious Dish Tuesday hosts include:
Amanda of Coping with Frugality
Alesha of Full Time Mama
and me, Johanna of Mama Chocolate
Don't forget to leave a comment after you link up your post!