It's probably the #1 question I get asked by strangers while pregnant…
"Do you know what it is yet? Boy or girl?"
…and I always answer: "We don't know! We'll find out when he or she is born!"
Shocked looks usually follow, accompanied by the list of reasons they have to know ahead of time.
"I could never wait…I just don't have the patience!"
"I'm a planner. I have to know ahead of time."
"I don't want a bunch of gender neutral things."  
While I am sympathetic to all these reasons, I think I have some pretty good arguments against them. And while I feel pretty strongly that we will continue to save the surprise for our babies' birth-days, I must admit that it drives me absolutely nuts when my friends wait to find out. So don't for a second think that I'm judging you when I discover you plan to find out ahead – I wanna know who your babies are!
This is definitely a whatever-works-for-ya decision. I'm pretty sure your children aren't going to be scarred for life, either way. It's just one of the 101 little things we all have to come to a decision about when Baby is on the way!
So why do we save the surprise?
1) I am NOT "a planner" and I love surprises.
Even if you are a planner, you can still plan ahead for a baby without knowing its gender ahead of time. There are only a few gender-related things that you really need to be prepared with, (first outfits, etc) and those are pretty easy and inexpensive to just have one of each ready and waiting.
2) We have our baby showers after baby is born.
By then (obviously) everyone knows what the gender of your baby is and they won't give you gender-neutral gifts. I don't want to dress my little girls in green and yellow, either. We also received a lot of hand-me-down 0-12 months clothing in both genders before our first child, so we were very prepared in that respect.
3) We keep our names secret.
We keep our name choices secret for several reasons, (mostly so no one else "steals" them, and so we don't get everyone's opinions about them) so knowing the gender, and thus knowing for certain the name of our baby, would be super frustrating to me. I have a hard enough time not sharing with everyone the names we have prepared. If I knew who it was in there, I would be almost certain to slip up and let it leak.
4) We don't need time to decide on a name.
We made a very long list while we were on our honeymoon, (as we gazed out on the Scottish countryside through the train windows – good memories!) We've tweaked and added to that list since, but we have at least 3 more full girl names ready and 9 full boy names, so we feel pretty prepared in that respect…
5) It helps me get excited about impending labor.
I truly believe that this is one of the biggest reasons that I do not dread labor as much as the average mother. The anticipation is so built up after 9 months of wondering that I get excited about labor and the need to know helps push me through the hours of hard work.
Kim at Life in a Shoe just commented on this phenomenon as she was waiting to go into labor with their eleventh child (born last night!)
read our sweet Elanora's birth-story

6) We plan to have several kids.
This applies mostly to the bigger baby "gear" items – cribs, nursery colors, swings, car seats, etc. It would be way too expensive (not to mention wasteful,) to have boy and girl versions of all these things. I am not going to repaint the room to coordinate with each gender, so it's a lovely sage green.
Okay, so we've already had three, and they're all girls, so a small piece of me is wishing we did some more girly things. But we couldn't have known that ahead of time anyway – knowing that they were each girls a couple months earlier in each pregnancy wouldn't have changed that.
And someday we're gonna get our boy. Or John just might go all King Henry on me…
Which brings me to:
7) There is little-to-no "gender disappointment" involved.
While I don't think you're a horrible person if you just kinda wish for a bit that your baby was going to be a different gender, I honestly believe that the process of getting over that twinge of disappointment has to be much easier when you've got your precious bundle right there in your arms. I don't want to feel like I spent a portion of the pregnancy bummed about who it was going to be.
*Disclaimer: I adore our girls and am honestly a little apprehensive about having sons, so really, I've been mostly relieved to be holding another girl each time, so maybe I have no idea what I'm talking about and should just shut up now.
This reasoning comes mostly from hubby, who is more impatient to have a boy than I am. To which I will add another disclaimer and note that he adores our girls and is thrilled to have them and would never exchange them for boys.
8) It cuts down on the unwanted "disappointment" comments from family and friends.
People feel much more free to make weird comments for some reason when the baby isn't born yet. Not many people are going to say "Aw, man! I bet you wish he was a girl, huh?" to you, sitting there with your blue bundle in your arms.
9) It builds suspense and excitement in family and friends.
Have you ever experienced the slightly anti-climatic moment when a friend or family member's birth is announced, but you already knew pretty much everything about the kid except how much he weighed and what time he came? Obviously it's still very exciting, but I like being able to make the big announcement to the world and getting comments like, "Your three girls are going to have so much fun together, congrats!" while we are also basking in the newborn baby-moon.
Besides, when I'm going nuts waiting for my baby to show up, fun things happen.
10) We don't do ultrasounds without a medical reason.
I am not convinced that ultrasounds are completely harmless. They may very well be, but at this point, I am not convinced, so without a concern-based reason to check things out, we will continue to avoid ultrasounds anyway. If we ever are in a situation where we need an ultrasound, I suspect I would feel a little more scared about the pregnancy and perhaps want to know the gender if possible (since we were there anyway) to help me bond better with the baby.
Now. All of that said, here is…
Why I wish we knew ahead of time
1) I would absolutely want to know if it was at all possible in the event of a miscarriage.
I pray that I never have to go through this, but if I had a miscarriage, I believe that it would be very important to be able to name the baby, (and I don't care for non-gender-specific names.)
2) I do think it would help pre-birth bonding.
I would love to be able to talk to my baby by name, pray for her by name and let her Papa and siblings talk to her by name before birth.
What about you?
Did you, or will you, find out the gender of your baby, or are you a wait-it-out gal, too?
Tell me why you made your decision!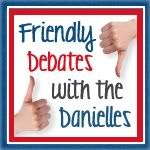 Head on over and check out other bloggers' opinions on
Finding Out Gender Before Birth
during the Friendly Debates with the Danielles!