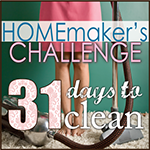 I'm joining in on the Homemaker's Challenge at Joyful Mothering…a few days late.
We're working through Sarah Mae's 31 Days to Clean e-book, (which you should totally get!)
Join in…it's not too late!
The challenge for Day One is to come up with a brief mission statement for my home, an answer to "Why do I want a clean home?"
* * * * * * * * *
My Mission as a Homemaker
To adhere to a basic functional routine for the sake of peaceful order for our family.
To maintain our home as a haven for my hard-working husband to come home to, and an atmosphere for creativity, learning and growth for our children.
To be able to entertain regularly without having to try to perform housecleaning miracles the day before when trying to bring the house to some kind of order.
* * * * * * * * *
…and now I'm gonna see if I can start catching up! Everyone else is already on Day Nine today!
*gulp*
("M" for Mission Statement!)