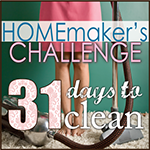 *Whew!* I'm a little late getting this up, (supposed to be doing this on Thursdays)…and I'm a lot late getting started on the Homemakers Challenge since the day it started was the day my vacation started.
And then I had to recover from my vacation.
So yesterday I got my rear in gear and got started!
I already had Day One covered, (the mission statement) from the May challenge.
Day Two's project is cleaning your fridge:
Since I hadn't cleaned it out for weeks and I'd just done my major shopping the day before, it was lookin' pretty bad:
The depressing part is that my after picture doesn't look  that much different, except for the addition of a very cute little person.
But I promise, it is MUCH cleaner and I have a big bowl going out to the chickens of grizzly, long-gone leftovers and expired stuff.
Mostly it is just full of stuff from my recent shopping trip. I've got some freezer meals to make and a lot of fresh, seasonal veggies and such in there that take up a lot of room.
Now I have THIS to tackle this afternoon, (it already looks better than this pic, but still needs a lot of help!)
Oh my word.
I can't even believe I'm posting this, but it sure motivates me to get it whipped into shape so I can show you an after picture soon.
Click here to read my review of 31 Days to Clean and how you can join in on the Homemakers Challenge too!