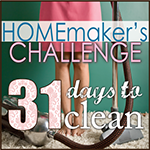 I'm in big trouble.
I haven't done one speck of anything out of 31 Days to Clean all week.
 I considered trying to squeeze out of this, knowing that at least most of you wouldn't even notice if I didn't post my progress this Thursday.
But that's NOT why I told you all that I was going to post every Thursday about my progress!
I told you I was going to so that I would actually do the work. And if I think I can sneak by you all with out doing it, what was the point of that?!
So you have my express permission to yell at me if you don't see a Homemakers Challenge post here every Thursday.
In my defense, look at my dining room table. (!!)
I haven't seen that much of my table in WEEKS! Now I just need some purty flowers for a center piece…kicking myself for not doing a garden this year.
Except I'm really glad I didn't do a garden this year, because it would have been neglected and would probably be either A.) a jungle of weeds or B.) a desolate, barren place of woe.
So I'm not kicking myself, really. I just want some flowers for my table.
Any alternative center-piece ideas?
I actually have been doing considerably better with just keeping up with the maintenance cleaning. I'm washing my dishes daily (yes, this is an accomplishment for me,) keeping up (more or less,) with laundry, and I unpacked (most of) the rest of our stuff from our  Labor Day weekend Girlie Getaway this afternoon!
Although I haven't yet had much time to delve further into the deeper cleaning in the 31 Days book, I have still been benefiting from it!
Sarah Mae (the author) set up several support groups for the ladies working through the book, (ask her about it on Facebook if you want in one!)
I am part of the "Mamas of Littles" group on Facebook, and we've been doing these little mini challenges almost daily, (sometimes several times a day!)
It's been an amazing tool, and I wanted to tell you about it, so that you might join up or find a way to do it within your own circles!
Someone (the hostess,) announces a quickie challenge is coming up. "Get ready!"
Anyone that wants to participate makes up a list for themselves of four 10-minute projects. We number each task as 1 through 4.
Example:
Empty dishwasher and re-load
Wipe down all counters and sweep kitchen
Move laundry from washer to dryer and sort the rest
Tidy the living room
The hostess randomly selects a number between 1 and 4, and shouts in out to the group:  "Attack task #3!"
It is recommended for the hostess and anyone participating to set yourself a timer for 10 minutes to help you to keep moving. When the timer goes off, the hostess comes back with another task # to tackle.
After the first two tasks, there is a 10-minute break, (use your timer again to stay on track!)
Back to work, same as above to finish out the last two tasks.
Rejoice that you just got a buncha housework done in 50 minutes time, and we made it almost a game!
It always amazes me how much I can get done in such a short time with the extra motivation and accountablity and it makes the housework fly by! It is also always encouraging to everyone to share what you got accomplished after the challenge is over!
Ask Sarah Mae for more info on Facebook if you're interested in joining us!
PLEASE: Keep prodding me to plug through the deep-cleaning in the book. I need it!
Click here to read my review of 31 Days to Clean and how you can join in on the Homemakers Challenge too!


P.S. My kitchen is looking
way
 better than it did
last week
, but I'm too
lazy
tired to go get a picture for you. (It's 12:30am, people!)