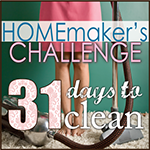 I'm still limping along with the Homemaker's Challenge. This doesn't mean I'm not doing any housecleaning…it just means I am focusing on things like washing dishes and folding laundry and making beds, and not the "extras" so much, (dusting tops of cupboards, etc.)
I have had some real success this week doing a much better job at keeping up with the regular daily housekeeping.
The dishes have been washed. Every day!
Don't laugh.
I've swept my kitchen floor more than twice this month(!!)
Yup, I'm feelin' good, and the house is overall looking better than it has since before we had children. Except we'd just moved in then, so it didn't look all that awesome then, either. Apparently, it takes me approximately a year to "move in."
Which is why I plan on pray that we never have to move again. At least for a long time.
It's going to be more like 31 Weeks to Clean at this rate but I did manage to get to the "clean your microwave and oven thoroughly" task!
Unfortunately, I had left our camera in the car (which John had at work,) and I don't have one of those fancy-shmancy cell phones that takes amazing pics, (yet.) So, I don't have any before photos. You didn't want to see them anyhoo.
But do you like the "after?!"
I do! I have not seen my oven this clean since…we moved in 3.5 years ago!
It didn't even take that long either! I did it during one of our speedy challenges, and it took me about 15-20 minutes max.
Why do I avoid and put off these stupid little things? I've lived for months with a crusty, grimy stove that took me minutes to make sparkly.
I want sparkly.