I have had the pleasure of reviewing The Peaceful Housewife's e-book of natural household cleaners recipes!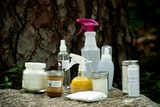 This book is a full 13 pages and each page has at least 2 or 3 recipes, covering almost any cleaner you'll need for your home!
Included are easy, natural recipes for laundry detergent, stain removers, carpet cleaner, disinfecting wipe solution, glass cleaner and even 5 different options for pest sprays or repellents!
While browsing through the recipes, I was pleased to see that I had most of the ingredients already in my home! The ones I didn't would be easy enough to find in stores and inexpensive to purchase, making my stash of cleaners extremely affordable!
I was especially excited to see a recipe for foaming hand (or dish) soap! I love having foaming soap, but it tends to be way overpriced.
Using an old bottle from a Bath & Body Works foaming soap, I was able to have my own foam pumping out of there in no more than 3 minutes! When I realized that it was going to be clear, (not colored like soaps I purchase,) it dawned on me that a lot of those fancy, pretty soaps must have fake coloring in them, making me feel even better about having just made my own, natural foaming soap!

Jenny, (the Peaceful Housewife herself!) is generously giving away two copies of her e-book to two lucky Mama Chocolate readers!