Jeanna Stolle Young felt called by God to develop this Princess Parables series when she saw the need for princess role models with character and depth.
While I will still let my daughter occasionally watch most Disney movies, let's face it: many Disney princess stories have questionable content and the rebellious children, (think: Little Mermaid,) and fluffy stories aren't always helpful when you are trying to raise your daughters in an ungodly world.
I was more than pleased to get the chance to review these books. Katie loves everything princess-related and was ecstatic when I pulled these out of the mail.
Over the past several months, they have remained in her top favorites for me to read to her. At barely 2.5, and she could correctly identify all five of the princesses…Joy, Hope, Grace, Charity, and Faith.
She loves the kitties in "Princess Grace and the Little Lost Kitten," and is always happy when the kitten is safe at home in the castle with the princesses and king, (story based on the parable of the lost sheep.)
Second only to princesses, birthdays are Katie's current favorite topic, so "Princess Joy's Birthday Blessings" is right up her alley these days! This one is based on the parable of the father inviting everyone "important" to his son's birthday banquet, only to have them all make excuses and decline.
Princess Joy's sisters plan an elaborate surprise birthday party for her, only to have every invited prince and princess make excuses to not attend. Princess Joy ends up inviting all the poor and ordinary people and learns that it is not so important who comes to the celebration, as is the love and simple friendship that is shared there.
While I am glad that Katie loves these books and I think it is a wonderful idea to provide princess stories with good role models and more substantial plots, sometimes I felt that the stories missed something from the parable they were depicting.
It seemed strange to me in "Princess Grace and the Little Lost Kitten," that the king sent out all five of his little daughters to roam the countryside and go through the scary dark forest to look for the kitten while he sat back at the castle. Especially when it says, "Grace was overjoyed and humbled by her father's quick actions…..The king explained lovingly to all the princesses, "You are each important to me, even when you get into trouble. Search everywhere for our lost kitten. Bring her back safely to the castle. Go now with my blessing."
He does send his "best horses and his most trusted riders to go with her," but why doesn't he go himself if it's so important to him? It seems like that would fit the parable better…
A couple other more insignificant, minor things bothered me: Where is the princess' mother? Neither of the books ever mention her, or if they even have a mother, and Katie often wants to know where the Mama is.
Why is Princess Joy's male puppy named "Rosebud" …with a pink collar? Katie is very observant of such things, and assumed the puppy was a girl and I thought it was a little odd also. Princess Grace's kitten is named "Poppy," which to a 2-year-old, sounds an awful lot like "puppy," which can be vastly confusing!
Also, "Princess Joy's Birthday Blessing" references "chocolate petit fours" and eating "tiered cake" is mentioned in both books. I'm all for Katie expanding her vocabulary, but I had to look up what "petit fours" even were, (basically a small French confection,) and all they ever eat in either of the books is dessert!
Those little oddities aside, I really do like the books, and Katie absolutely LOVES them, which is the primary purpose of having them. The illustrations are cute and eye-catching. Each princess has a beautiful, unique dress and sparkly crown which delights my little girl, and I believe the author accomplished her goal of providing more role-model-worthy princesses for our daughters.
And though I may not see these books as likely to become classics, I can highly recommend them for any little girl, especially for those girls who, like mine, can't get enough princess in their lives. The Princess Parables series provides a much more wholesome option for impressionable little minds!
Purchase these first two books from Zondervan at $12.99 each, or from Amazon
for $11.69.
Watch for the next three books in the series, telling the stories of the other princesses, to become  available in May, and an "I Can Read" series coming out in July and September!
Keep up to date with the latest news and release dates of the new books on the Princess Parables Facebook page!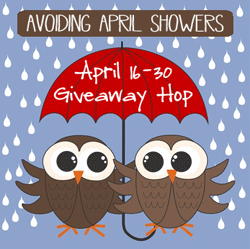 Jeanna and Zondervan are generously giving one lucky Mama Chocolate reader a copy each of "Princess Grace and the Little Lost Kitten," and "Princess Joy's Birthday Blessing" during the Avoiding April Showers event!
Head on over to the giveaway post to enter to win!