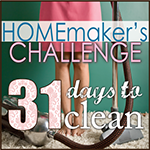 Again, I did not make a lot of headway on the challenges this week as I was getting ready to run off to the beach for our annual family vacation.
(I'm scheduling this ahead of time, which means when you are reading this, I am relaxing in The Land of No Internet, drinking tea and watching the ocean from a cozy chair.)
I did accomplish the task of dusting/cleaning the tops and fronts of my cupboards and refrigerator! I didn't photograph the cupboards since there was not much noticeable difference there, (since I cleaned them very well during the last challenge!)
The Mary part of this challenge went along nicely with the Martha challenge, (above.)
I was supposed to ask my family what makes them feel the most loved when it comes to you caring for your home – ask them to be specific so that you can begin, (or continue) to give life to your domain.
One of the top things for John was that he loves to have the top of the refrigerator clear, as in, nothing up there. It stresses him out.
I had never even considered this possibility, as I had always considered the top of the fridge prime storage space, but now that there is nothing up there, I can totally see what he meant!
Our whole kitchen feels cleaner and more tidy, just because the top and outside of the fridge are CLEAN!
I was easily able to find new, (and better!) places for all the stuff up there, and I got out the plastic-tac to put the pictures up so that Katie could have her magnetic alphabet back. She had great fun helping me wipe down the front of the fridge and then sang the ABC's to me several times while she rearranged her letters!
Yes, my 2.5 year old knows her ABC's perfectly. (Almost perfectly: "J" seems to be on vacation lately.)
And Itsy Bitsy Spider. And Twinkle Twinkle Little Star. And Amazing Grace. And…well, you get the picture.
My child is obviously brilliant beyond measure, and I'm not even making it up.